Introducing the ViQure RF02 All-In-One Radio Frequency Skin Tightening Device – the ultimate solution for your skincare needs.
With its professional-approved, next-generation multi-radio frequency technology, this revolutionary machine offers a multitude of skin-toning and anti-aging benefits for both your face and full body.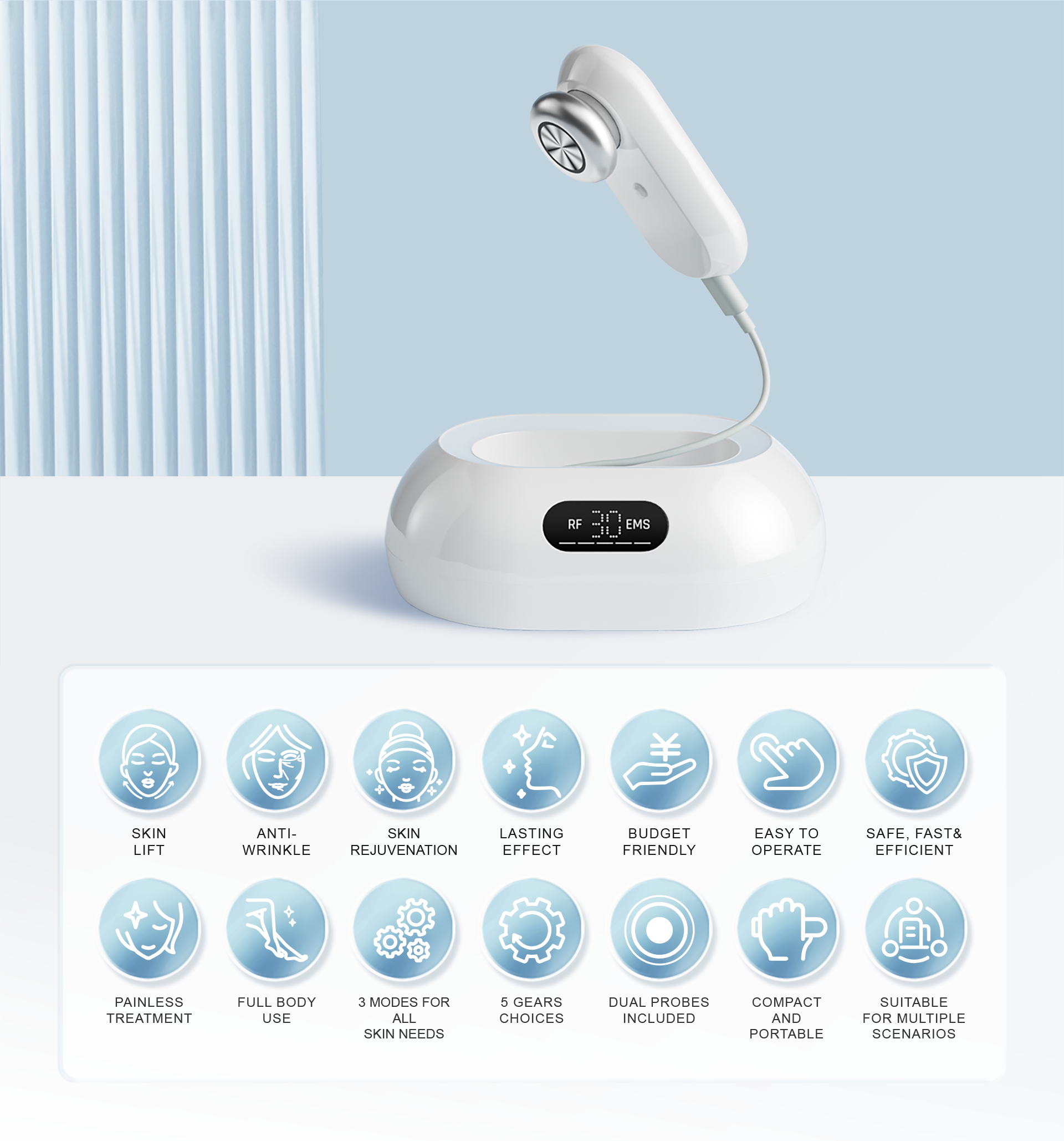 Shipping & Maintenance Center
Our local warehouse and maintenance center is located at 2045 S Valentia St, Unit 20Denver CO 80231, United States. We take pride in offering efficient express shipping services. Here are the relevant details
Handling Time: We diligently process your order within a span of 1 to 2 business days, operating from Monday to Friday.
Transit Time: Following the shipment of your order, you can anticipate its arrival within a timeframe of 3 to 6 business days. Shipments are dispatched from Monday to Friday.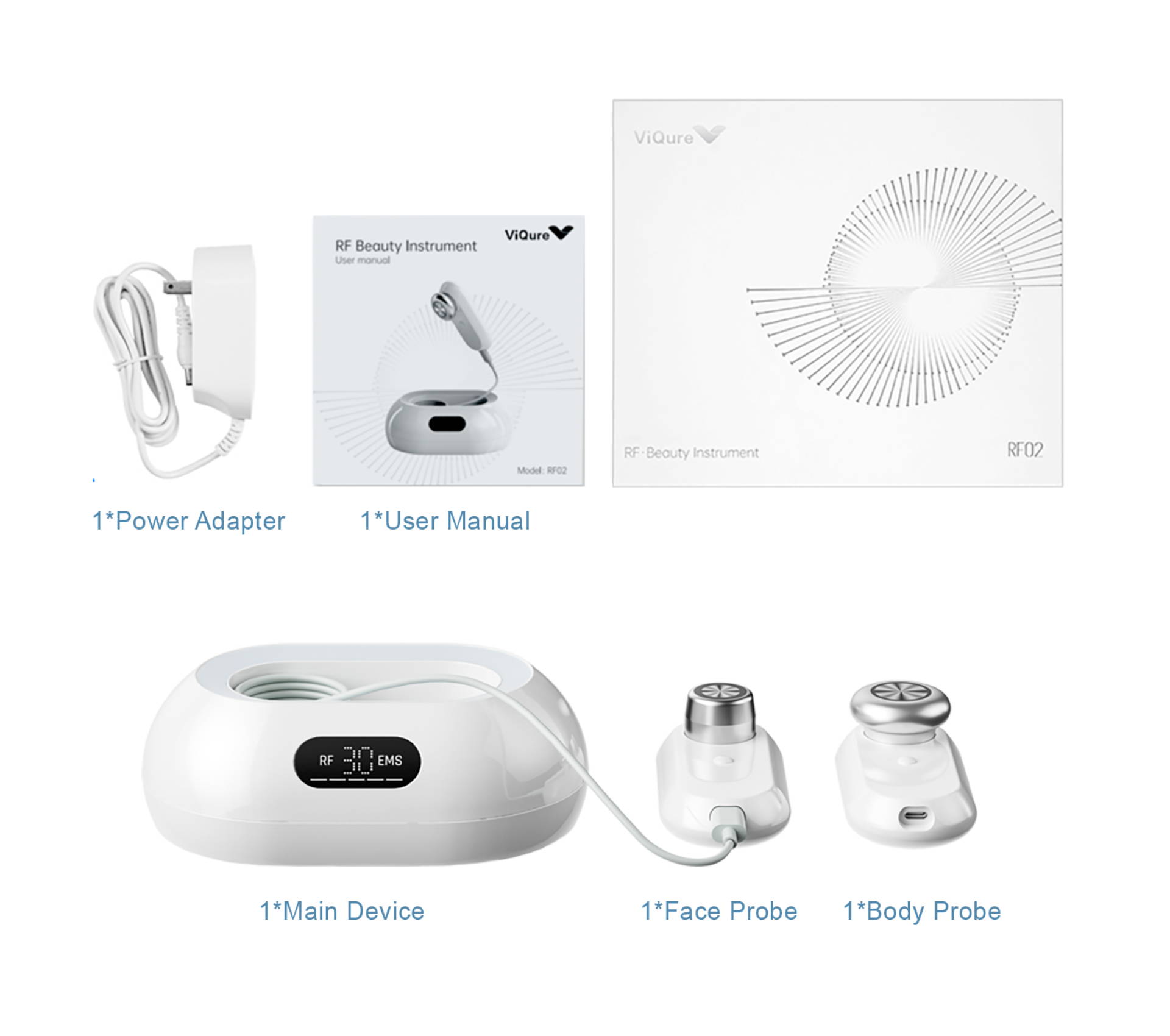 1*Main Device
1*Face Probe
1*Body Probe
1*Power Adapter
1*User Manual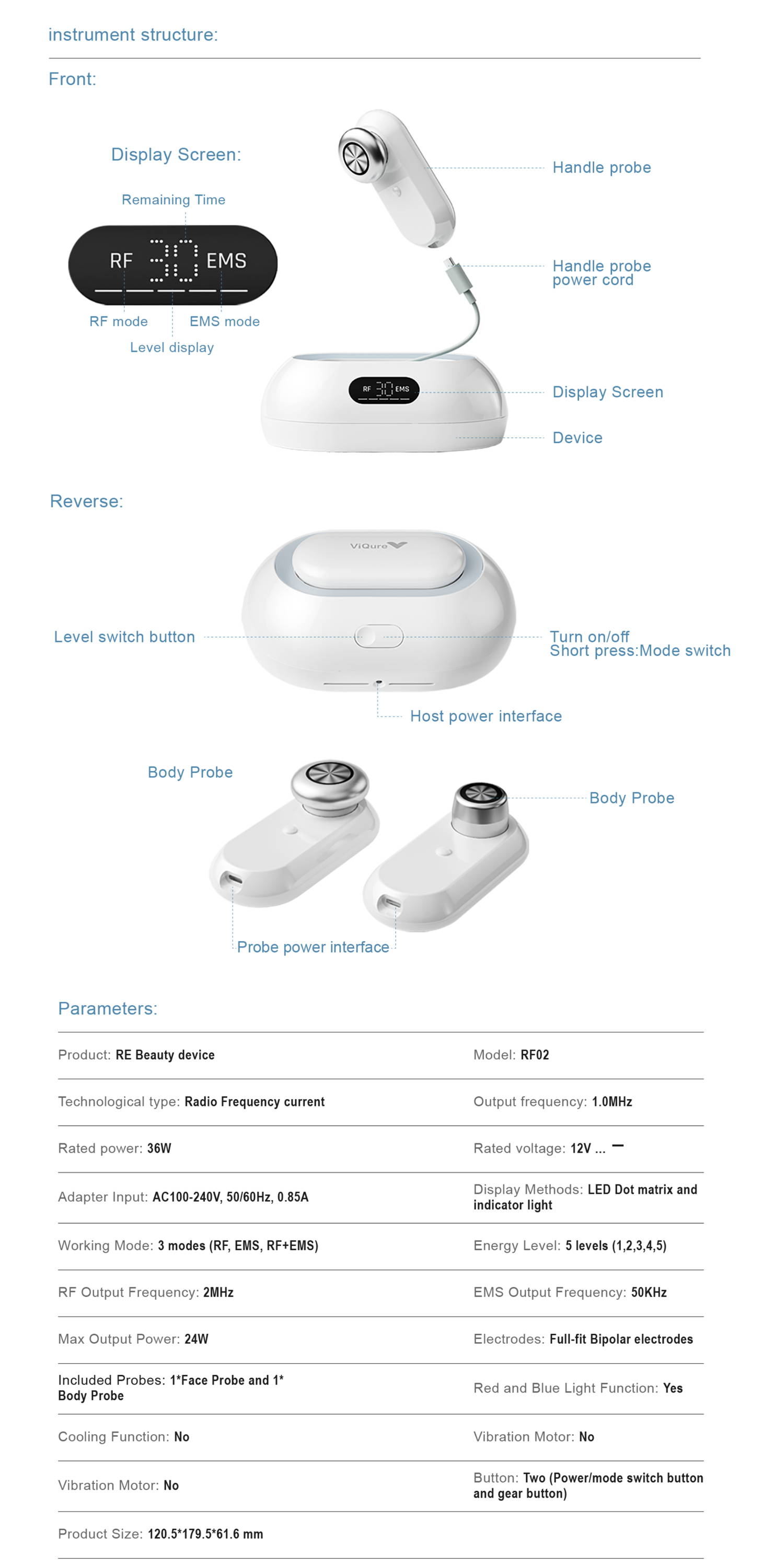 Whether you're targeting specific areas of your face or body, our detailed treatment operations guide offers comprehensive instructions to follow during your skincare routine.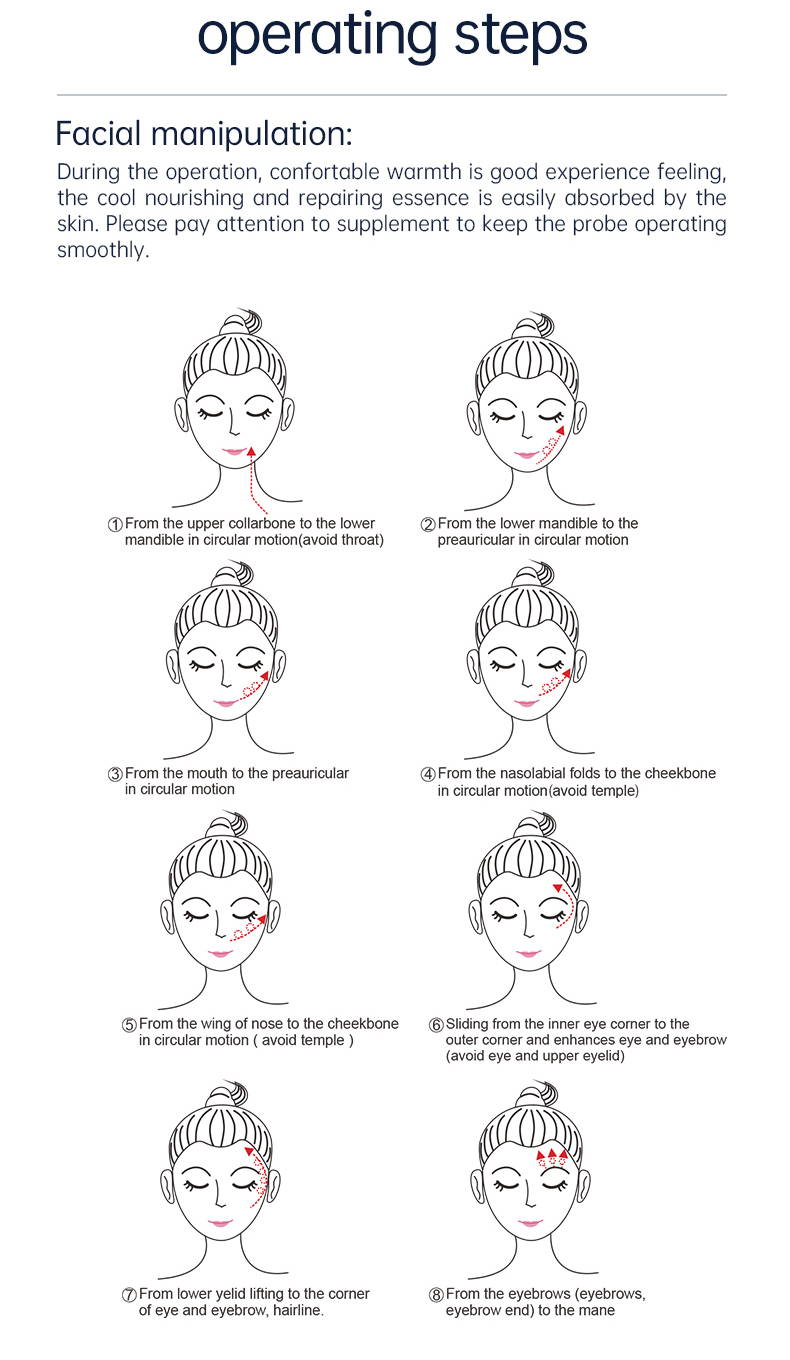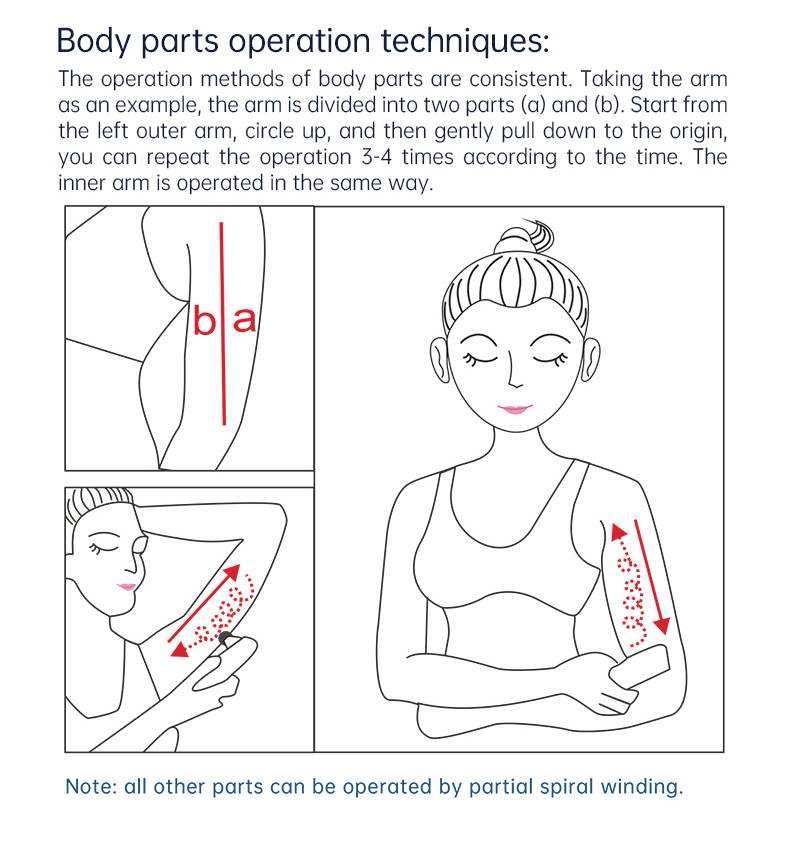 To ensure a seamless experience, we provided a step-by-step instructional video that demonstrates how to set up and use the device for optimal results. Please check it below.
For your convenience, we also offered an e-version of the user manual that you can easily download below. This comprehensive guide provides in-depth information on device functionality, care tips, and troubleshooting. With these resources at your fingertips, you can confidently navigate your skincare journey with the ViQure RF02 beauty device.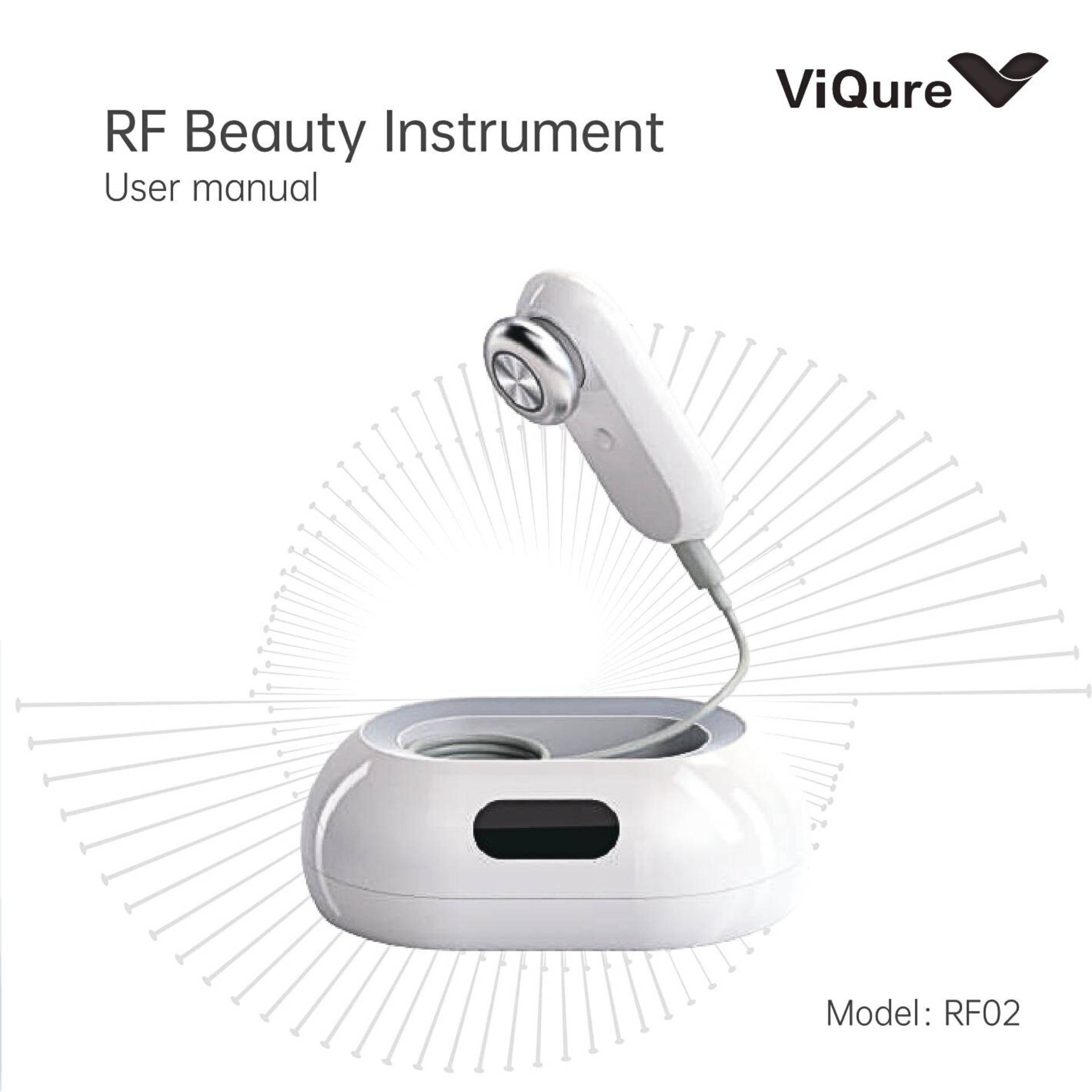 Frequently Asked Questions
Return and refund policy?
At ViQure, we are dedicated to providing our customers with innovative products and services. And we do support a 30-day return if you're not 100% satisfied after the delivery. Please feel free to contact our customer service team for more details.
Whole Machine Warranty: Starting from the date of purchase, the warranty for the entire machine lasts for a period of 1 year. ViQure reserves the right to repair, replace or refund (less cost of shipping) any item(s) requiring warranty service.
RF waves, also known as radio frequency waves, emit energy in the form of electromagnetic waves. They are present in various aspects of our daily lives and can range in energy levels from low to high.
In ViQure devices, RF waves are used at low energy levels, ensuring a safe and effective stimulation of collagen synthesis and elastin repair within the skin's dermal layer. This process leads to a visibly firmer and smoother appearance, rejuvenating your skin with remarkable results.
When RF waves come into contact with the skin, they transform into gentle heat that penetrates the deep layers of the skin, specifically the dermis. This process generates a pleasant warming sensation without causing any harm to the skin's surface.
By heating the dermal layers, the production of natural collagen, the protein responsible for skin firmness, is stimulated. This safe and effective collagen production actively combats signs of aging, resulting in a reduction in skin laxity and the appearance of wrinkles as the skin undergoes self-repair. Experience a rejuvenated and youthful complexion as your skin regains its vitality.
What's the clinically proven benefits of RF?
Clinical studies have unequivocally demonstrated the following benefits of RF technology:
Diminishing fine lines and wrinkles.

Assisting in lymphatic drainage.

Restoring elastin fibers.

Stimulating the skin's healing responses.

Naturally boosting collagen synthesis.

Enhancing skin texture and overall appearance.
Experience the scientifically proven effects of RF technology as it revitalizes your skin, helping you achieve a more youthful and radiant complexion.
Our beauty device is suitable for both facial and full body care.
We provide two probes, one tailored for facial care and another for body care - you can indulge in a salon-level skincare experience that covers every inch from head to toe. Discover the convenience and effectiveness of a single device that caters to all your skincare needs, providing exceptional care for both your facial and body skin.
Who could use the ViQure RF02 beauty device?
The ViQure RF02 beauty device is perfect for individuals facing skin concerns such as sagging, aging, weakened fibrous tissues, lack of elasticity, dullness, roughness, and lackluster appearance.
If you desire to restore your skin's vitality and radiance, this device is highly suitable for you. Experience the transformative power of ViQure RF02 as it rejuvenates your skin, unveiling a renewed and radiant complexion.
In what scenarios can I use the RF02 beauty device?
Our RF02 is a device that allows you to effortlessly enjoy salon-level skincare. You can use it in the comfort of your own home, beauty salons, fitness clubs, and various other settings.
It's also travel-friendly, allowing you to take it with you on your trips and maintain youthful, firm, and healthy skin through consistent use.
Usage Interval or Frequency Recommendations?
In general, we suggest incorporating our RF02 beauty device into your skincare routine every 3-4 days.
If you have mature skin experiencing issues like roughness, dryness, and aging, we recommend using the device every 2-3 days for targeted care.
If your skin is in good condition, it's advisable to include the beauty device in your regular maintenance routine with care sessions scheduled every 1-2 weeks.
How to set up the device?
Step 1: Begin by removing makeup and cleansing your skin. Ensure that the handle and probe are clean and disinfected.

Step 2: Connect the power cord and turn on the main device. The indicator light will turn white to indicate that the device is powered on.

Step 3: Attach the appropriate probe for your desired treatment area (facial probe for facial care, body probe for body care). Please note that no other Type-C cables should be connected to the probe.

Step 4: Press and hold the power button to start the device. A "beep" sound will confirm the activation of RF mode. The display screen will light up, and the default mode is RF with a 30-minute countdown.

Step 5: Use the level switch button to adjust the power level. Begin with a lower level and gradually increase it as needed. If you experience excessive heat, promptly decrease the power level.

Step 6: Use the mode switch button to switch between different modes: red light for RF mode, blue light for EMS mode, and green light for RF+EMS mode.



Supported modes and how to choose the appropriate mode?
Our ViQure RF02 supports three functional modes: RF mode, EMS mode, and RF+EMS mode. You can quickly select different modes to meet your skincare needs by pressing the mode switch button on the main device.
RF Mode: Activate the RF mode to witness the device's red light illuminate and the display screen showing "RF". With a default level of 1, the countdown timer is set to 30 minutes.




This mode effectively delivers heat to the deeper layers of your skin, facilitating the penetration of nutrients through the skin's outer layer. Experience profound nourishment, resulting in a hydrated and radiant complexion.




EMS Mode: When using EMS mode, the device's blue light will illuminate, and the display screen will show "EMS". The countdown is set to 30 minutes, with the default level at 1.

Through the use of electrical impulses, EMS technology stimulates and exercises your facial muscles, promoting muscle contraction and relaxation. Experience the benefits of a lifted and slimmed face, along with a reduction in the visibility of wrinkles.




RF+EMS Mode: When using the RF+EMS mode, the device's green light will illuminate, and the display screen will show "RF & EMS". The countdown is set to 30 minutes, with the default level at 1.




While providing deep heat to the skin, the EMS technology also exercises the muscles. This mode nourishes the skin and promotes muscle contraction and relaxation, providing comprehensive care for your skincare routine.
Note: After a 30-minute countdown, the device will enter standby mode with the white light on. To restart, press and hold the power button to turn on the device.
How to choose the power level for treatment?
The RF 02 machine offers 5 adjustable levels, ranging from 1 to 5. As the number increases, the level becomes higher, resulting in a greater energy intensity released by the probe during the treatment.
The device starts at level 1 by default. You can switch between power levels by pressing the power level switch button on the main device.
We recommend starting at level 1 until you become accustomed to the device, as this allows your skin to better adapt. Then, based on your personal preference, you can choose other power levels. We suggest starting with lower levels and gradually increasing them. If you feel excessive heat during the treatment, immediately reduce the power level to avoid burns.
No, not at all. ViQure RF02 is designed to provide safe and comfortable RF treatments. While using the device, you may experience a pleasant warming sensation, but it should not be painful. If you do experience any discomfort or pain, please discontinue use immediately and consult a doctor.
Can I incorporate it into my skincare routine?
Definitely. After cleansing your skin and ensuring it is clean and dry, you can use the device. After removing the preparation gel, continue with your regular skincare routine, including applying serums, moisturizers, and SPF. Consider the device as a luxurious and enhancing addition to your skincare regimen.
When can I expect to see results?
You will experience immediate results, and they will continue to improve over time.
For optimal results, use your ViQuere device 2-3 times a week, with at least 24 hours between treatments in the same area, for 6-8 weeks. Afterward, you can use it 2-4 times a month or as needed to maintain the results.
Need any help? Please feel free to contact us via live chat or email at support@viqure.com. We are always here to serve you!